Mission
Our goal is to deliver accurate, independent and guaranteed estimates within days following a loss, so our clients can quickly calculate costs, determine course of action for repairs and move forward with returning their vehicles to pre-disaster shape.
Expertise


Intellus was formed to meet customer demands. Our team is made up of automotive experts in the repair, insurance and catastrophe response industries.
We stand behind the repair numbers we provide because we've been through many events like the one you're dealing with right now. Our independent appraisers have the know-how to meet your standards for service and reporting, utilizing Mitchell, CCC or Audatex to automate your claims and easily integrate them into your system.
Process
When speed and accuracy matter most, Intellus Automotive Systems will have a team of experienced appraisers on site to assess the damage and deliver guaranteed estimates for each and every vehicle effected.
Every damage report we prepare is accompanied by an extensive visual documentation of the vehicle. With end to end photographs from every angle and detailed close-ups of damage, nothing gets past our appraisers.

Receive an Assignment
We will have a team on site within 48 hours of a call

Write Field Estimates
Our proprietary mobile App allows us to document each and every vehicle quickly, efficiently and accurately to create thorough reports.

Transfer Data to Desk Adjuster
Data is organized by Vin # and transferred into your preferred claims solution application.

Finalize Estimates in Mitchell, CCC or Audatex
Detailed explanations are added as needed and costs are calculated.

Electronic Transfer of Estimates and Reports
Individual reports are grouped and delivered for your review.
Technology
Take advantage of our proprietary software to ensure accurate reports time and again. Our independent appraisers easily collect data and document damage directly through their mobile device. Images are collected, organized and uploaded along with the appraiser's notes so every detail is accounted for and every estimate is accurate.
Service
At Intellus Automotive Systems, we work hand in hand with our clients to deliver the information they need to move beyond a loss. Our appraisers can be on site within 48 hours of a disaster, and we guarantee each and every estimate.
We've been building relationships in the repair, insurance and disaster response industries for decades. We pride ourselves in being straight forward, thorough and responsive. And, we will do whatever it takes to make the process hassle free and efficient.
People
Behind every appraiser you meet in the field is a team of individuals whose number one priority is making sure your needs are met and your experience is hassle free.
From independent appraisers who are ready to be on site at a moment's notice, to our group of desk appraisers, call center professionals and IT support, the Intellus team is made up of the right mix of skills, knowledge and expertise to deliver confidence on every claim.
Meet Our Leaders: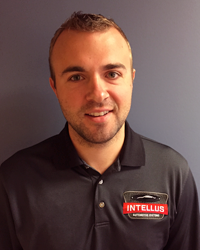 Alex Fairbairn
Estimating Coordinator
Alex manages the day-to-day operations at Intellus Automotive Systems. He and his team of adjustors have experience writing appraisals on multiple estimating platforms, including: Mitchell, Audatex, and CCC. In addition to writing estimates for many manufacturers and insurance companies, Alex acts as the liaison between the repair facilities and the insurance companies to provide a comprehensive and quality repair that ensures customer satisfaction and meets insurance guidelines. Before coming to Intellus, Alex graduated from Southern Illinois University Edwardsville with degrees in Business Administration and Employee Relations.
Interested in a career at Intellus Automotive Services? Visit our Careers page to learn more about current job openings.